Why PlusEnergy-Communities?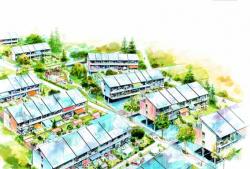 A community made of power plants? Any development area, regardless whether in a village, town or city, that consistently builds with PlusEnergy houses will be a huge step in the direction of environmental protection. A solar community generates identification and an enormous public image. You attract great tenants, innovative undertakings and creative work places.
Residential building in combination with the Plusenergiehaus® is the permissible integrated solution: a master plan that determines the direction of housing to the sun. Create a community with combined uses for an ecological urban planning concept like traffic management – with wide, attractive walkways, bike routes and connections to public transportation, with bike- and carsharing and an extensive car-free zone.
There are also possible community solutions for energy. For example, is a biomass cogeneration unit expedient, which meets the (reduced) additional heating demands? After all, a single home in a housing community is more beneficial in costs for both parties than a single stand alone home.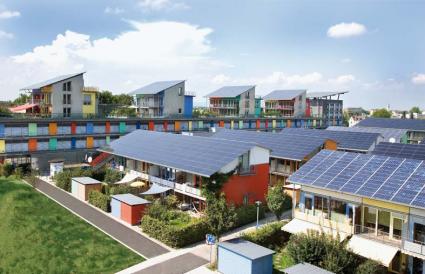 Freiburg Solar Settlement, WDR, Dellings Week, 26.11.2008
(2.30 Min.)
▲ to top
► www.rolfdisch.de
Variability through modular design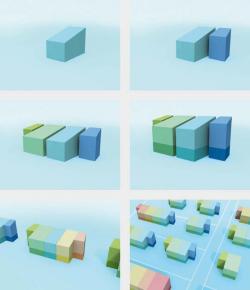 The basic design: a square footprint and a pitched roof. From this basis there are many possible variations. Different widths and different story options, also with extensions, can be selected so the owner can individually tailor the required space of their Plusenergiehaus®.
The solar energy earnings expand further with the roof's size, the roof's alignment to the South, and the roof's pitch. The roof style can also be customized into saddle or flat roofs. So advance your local living situation today with the Plusenergiehaus®!
Once the basis design of the house is decided upon, the homes can then be combined into groups of houses, duplexes, town houses and linked town houses. These are in turn variably combinable into solar communities. Of course when needed, additional commercial solar buildings that do not stem from the modular system can be individually designed and built.

Solar Energy Village in Germany
(englisch, 7.53 Min.)
▲ to top
► www.rolfdisch.de
The Powerbox – the core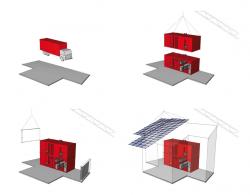 The Powerbox is the brain, heart and lungs of the Plusenergiehaus®. It is here that all of the functions are compacted: energy, utilities management (HVACR) and installations. From here the internal circuits are also coordinated: power and water, heating and air ventilation.
The Powerbox comprises the entrance and steps of the home. The bathroom, toilettes and kitchen are either a section of, or adjoin, the Powerbox. Also the quiet ventilation system is installed here – with heat recovery (90% efficiency). Arranged immediately at the entrance of the home is a technical room with the solar station and heat reservoir, electricity allocator and meter. This allows the owner/tenant to have easy access and control over the production and usage of their energy.
The Powerbox will be delivered quickly and completely assembled. This has three benefits: first of all, its standardization and pre-fabrication can consistently guarantee the highest quality. Secondly, the building time will be shortened. Once the Powerbox is up, the whole house will soon be finished. And finally, the house will be more cost-efficient.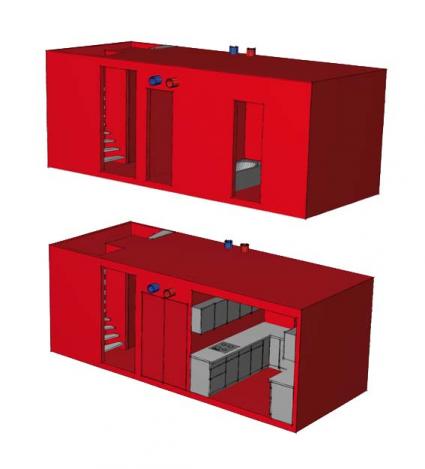 ▲ to top
► www.rolfdisch.de
Urban planning with PlusEnergy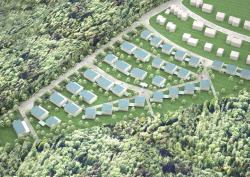 From concept planning through each design phase, Rolf Disch Solar Architecture develops PlusEnergy housing estates, specially harmonized to fulfil the requests of the community, the economic demands of investors, and the needs and wants of future residents or commercial occupants,
Our ecological focus:
Energy concept, with centralized and decentralized solutions
Water and sewage management
Sensible embedding in nature
Resident friendly solutions for personal transportation by way of traffic reduction, traffic tranquilization, auto-free spaces and expedient solutions for personal vehicles
Implementation of Top-Runner products to reduce household energy consumption
… and with urban planning:
Consideration of urban context and existing neighborhoods
Choice of different house types from stand alone homes, to town homes, to multi-story apartments.
Incorporation of infrastructure, also with mixed use areas and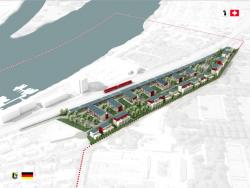 better access to work, shopping, leisure, etc.
Social aspects adapted for each different clientele, from a social apartment building to ensembles of exclusive residences – or an integrated mixture thereof.
Solutions for a lively gathering of all generations
Establishment of communal living spaces.
Sustainable community building maintains togetherness, creates identification and opens opportunities for communication. Ecological building does not mean relinquishment of comfortable living, rather it creates a more attractive local quarter for a higher quality of living.
An example of a planned PlusEnergy housing estates can be seen here: