Lectures by Rolf Disch
Pamplona, Spain
CIBARQ10, the IV Conference of Architecture, Cities, and Energy
"Energy is a vital resource, the raw material of human activity that is gradually becoming more important in society. At CENER (Centro Nacional de Energías Renovables) we are convinced that a sustainable future inevitably implies a balance between human activity and the capacity to regenerate the ecosystems that support this activity. This debate has a direct influence on the way we understand our cities and the way we live in them.
CIBARQ10, the IV Conference of Architecture, Cities, and Energy, is being consolidated as an open and critical forum of reflection on this balance, which describes us the different connections between the elements that make up The City – public space, buildings, infrastructures, and people – and the need for its rearrangement in search of a more efficient, more human, and healthier model."
We agree with this manifest of CENER, and are we happy to be invited to hold a presentation on the CIBARQ10 conference: "Renewable Energy in urban areas. The Freiburg case".
And we are really inspired by the creative way of rethinking traffic on the conference homepage: Klick here
www.cibarq.com
– then click on the red TV screen. - Viva la Ciudad!
Maastricht
Presentation on the Sustainable Building 2010 Congress (SB10)
"Towards Zero-Impact Buildings and Environments"
The area of the Maas and the Rhine is a region of old European culture – with lots of first-class research institutes and innovative companies. Flanders and Wallonia, the Netherlands and the Aachen region are related to each other in manifold ways, and together they constitute one of those clusters that the "Europe of regions" is made up of and gets its momentum from.
SB10 is all about creating a knowledge base for advanced developments and innovations in the field of environment achievements at various levels, namely at product level, building level, neighbourhood level, urban level and regional level. In addition to zero impact, the key word is 'environmentally neutral'. SB10 wishes to be a podium for supervised research and for recent examples of the inevitable future for our constructed environment. Scientific solutions will be translated into practical applications for realising zero impact buildings and environments.
Rolf Disch, too, will try to contribute to the idea of moving forward: from the Plusenergiehaus® over Plusenergy neighbourhoods to 100-Percent-Renewable regions.
Please klick her for further information on the congress:
www.sb10.nl
World Trade Centre, Mexico City
Presentation on the Second International Forum for Sustainable Residential Construction (Segundo Foro Internacional de Vivienda Sustenable)

Also in developing countries there are a lot of interesting approaches to sustainable building construction. Because there is a lot more building activity than in the saturated "Western" nations, and because there are great problems with urban growth, social upheaval, air pollution, waste, traffic and not least with the energy supply.
The Instituto del Fondo Nacional de la Vivienda para los Trabajadores (Institute of the National Domestic Construction Fund for the Workers) – about 10 % of all Mexicans live in houses and flats financed by that fund – organize their second international sustainability conference – in this special year of the bicentennial of Mexico's independence. The topic: "The return to the city quarter."
Rolf Disch SolarArchitecture have been invited to present architecture and urban planning of the Vauban quarter, and especially of the Solar Settlement in Freiburg. Following a second presentation for a number of building development companies, concrete possibilities of transfer, implementation and cooperation will be discussed.
Please see the address by the Mexican President at the First Sustainability Forum.
April 28, 2010 6 p.m.
Catholic Academy, Freiburg
"Freiburg goes ahead – Measures for a 100% Renewable Energy Supply"
The fascinating documentary film "Energy Autonomy. The Fourth Generation" has been running for five weeks now. Already well before the release, campaigning groups all had come together all over Germany, not only to call everybody's attention to the film with their activities and events, but also to seize its suggestions and inspirations – and act on them.
All Freiburg grassroots campaigners and "green" companies involved will now come together again in the lecture hall of the Catholic Academy to make suggestions how the Energy Autonomy movement should advance further. Everyone is invited to present his suggestions: What exactly will he or his initiative, his company, his association do? All this will be tied together to a package of concrete and coordinated measures.
Rolf Disch, Solar Architects and chairman of the 100 % GmbH – the regional association for sustainable business – will present a catalogue of possible measures, expose the basic issues, suggest a framework for all the activities, and show some guidelines how to come up with concrete suggestions to the economy, politics, NGOs and the citizens.
Starting from the Federal State Goverment political agenda, Disch will show how they could be realized on a local and regional level, aiming at no less than 100 percent renewable energy supply. And Freiburg must take a leading role …
May 25, 2009, 12:00
Green Roofs and Renewable Energies
Stuttgart/Nuertingen

The International Green Roof Association (IGRA) organizes the 2nd International Green Roof Congress, under the patronage of Wolfgang Tiefensee, Federal Minister of Building. After the great success of the first congress which helped a lot to spread the green roof idea all over the world, it is now time for exchanging experiences again.
In the centre of the presentations and discussions will be the current technical developments of recent years, spectacular green roof projects of renowned architects, as well as international green roof guidelines and regulations. In addition, there will be workshops and excursions to regional green roof projects.
Rolf Disch's presentation will show how roof landscapes can create extraordinary and beautiful living spaces. The following PDF gives you a first approach to the topic:
Green Roofs and Renewable Energy (pdf, 8 Seiten, deutsch)
18.02.2009, 16.15 h
Das Optimum an Energieeffizienz - das Plusenergiehaus.
Die Fa. esco-Metallbausysteme veranstaltet im Schwarzwaldhotel Gengenbach ein Seminar zu energieeffizienten Fassaden im Verwaltungsbau.
Weitere Informationen erhalten Sie über gabriele.nowak@esco-online.de. Hier können Sie sich auch zur Teilnahme anmelden.
30.01.2009
Local Renewables Freiburg 2009 Conference
Ab 27.04. - 29.04. 2009 steht Freiburg im Zeichen der "Erneuerbaren Energien".
ICLEI - Local Governments for Sustainability - veranstaltet in Verbindung mit der Stadt Freiburg und weiteren Partnern eine internationale Konferenz mit dem Schwerpunkt "nachhaltige Stadtplanung von Kommunen".
Das Büro Rolf Disch SolarArchitektur bietet im Rahmen der Konferenz für deren Teilnehmer am 27. April 2009 ab 9.00 - 12.00 eine Führung durch die Solarsiedlung, sowie einen Vortrag zum Plusenergiehaus-Konzept.
Bei Interesse senden Sie bitte eine E-mail an: LR2009@iclei.org
Rolf Disch talking about the Solar Settlement and the Sun Ship
(5.20 Min.)
▲ to top
► www.rolfdisch.de
Booking lectures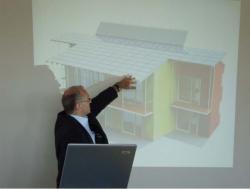 The interest in measures against the impacts of climate change is consistently growing. Of course it isn't easy to filter out the true, established technical information from the thicket of daily information.
For policy and management, for professional organizations, lobby groups and for all other interested groups, Rolf Disch Solar Architecture offers lectures that deal with ecological building.
Possible Lecture Topics
- Rolf Disch Solar Architecture – report on our projects
- Building with the sun
- Energy scenarios– 100 % regenerative energy
- The Plusenergiehaus® - concept and technology
- PlusEnergy -Projects: Heliotrope, Solar Settlement, Sun Ship
- Capital rerouting – future investments in sustainability
- Ecology and economy – costs / uses
- Financing concepts for sustainable building
- Marketing concepts for ecological real estate
- The Plusenergiehaus® in every community
- Sustainable housing community concepts
- PlusEnergy-Cities – PlusEnergy-Regions
- Solar commercial and administrative building
- Transportation concepts – Zero Emission Mobility
- Modular building
- Sustainable buildings with wood
- Using healthier building materials
- "Green-roofing"
- Water management with residential community building
- Vacuum-insulation
- Latent heat storage system (PCM device)
- Multigenerational-living
- Living and working
Further topics can be arranged. The lectures can be given in our architecture office lecture rooms (up to 100 people) or at your international location. Lectures can be given either by Mr. Disch himself or his colleagues.
Honorarium available by request
For booking information please inquire at:
vortraege@rolfdisch.de
or call at: 0761 / 459 44 36
Rolf Disch talking about the Solar Settlement and the Sun Ship
(5.20 Min.)