Public buildings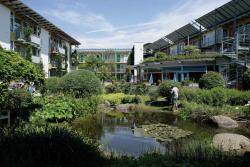 When you build, you have a responsibility for the entire community. Only with sustainable building will one fulfill this responsibility; solar architecture is the social architecture of today. It applies most notably to public builders, and for buildings that aim to satisfy a social goal. With PlusEnergy it is possible to fulfill this responsibility.
For example schools and child facilities, as well with senior housing communities and nursing homes have already been built with PlusEnergy. For such projects it is currently important to plan the consequential cost of the building in advance. PlusEnergy hold the operating costs at a minimum. Expensive energy renovations with foreseeable rising energy prices are eliminated. The funds thus remain readily available for the actual social goals.
Everything is possible from an urban energy-info pavilion about institutional building to a museum, to a sports complex, a church, or even a spectacular solar canopy for paths and bridges.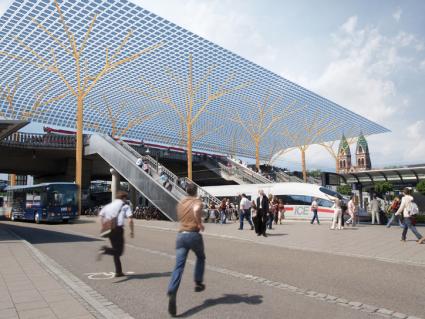 ▲ to top
► www.rolfdisch.de
Commercial and industrial building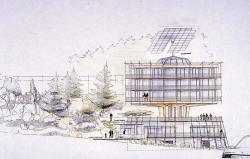 With a PlusEnergy showroom for your products your presentation demonstrates innovation. And when the production facility and the administrative buildings are likewise PlusEnergy, then the business steadily saves considerable sums for heating and electricity.
An amply dimensioned PlusEnergy building for offices, practices and commerce can be a center of attraction, a sustainable "hot spot" development. Just take a look at the "Sun Ship" in Freiburg! And a PlusEnergy hotel or restaurant modeled after the rotating Heliotrope would offer guests constantly changing, spectacular views.